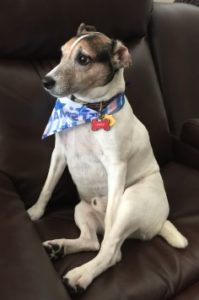 Moto is the most beloved member of our family who brings us hysterical laughter and immense joy. How 28 lbs can make our day tons of fun we'll never know.
It sounds like a cliche, but Moto inspires the qualities that we strive to achieve in our business:
Listen and look people in the eye - We spend quality time and listen to each customer in order to deliver the best services to meet their needs.
Be consistent and persistent - We enjoy problem solving. We have the grit and tenacity to find solutions and deliver.
Be loyal - Our business model depends on repeat business. We will go beyond expectations to gain your satisfaction.
Work as hard to touch lives outside your business as you do in it - Running a business is important, but so is building relationships and helping those around us be successful.